Take advantage of our limited time offer. Enter promo code HOLIDAY25 to save up to 25%.
See offer details
.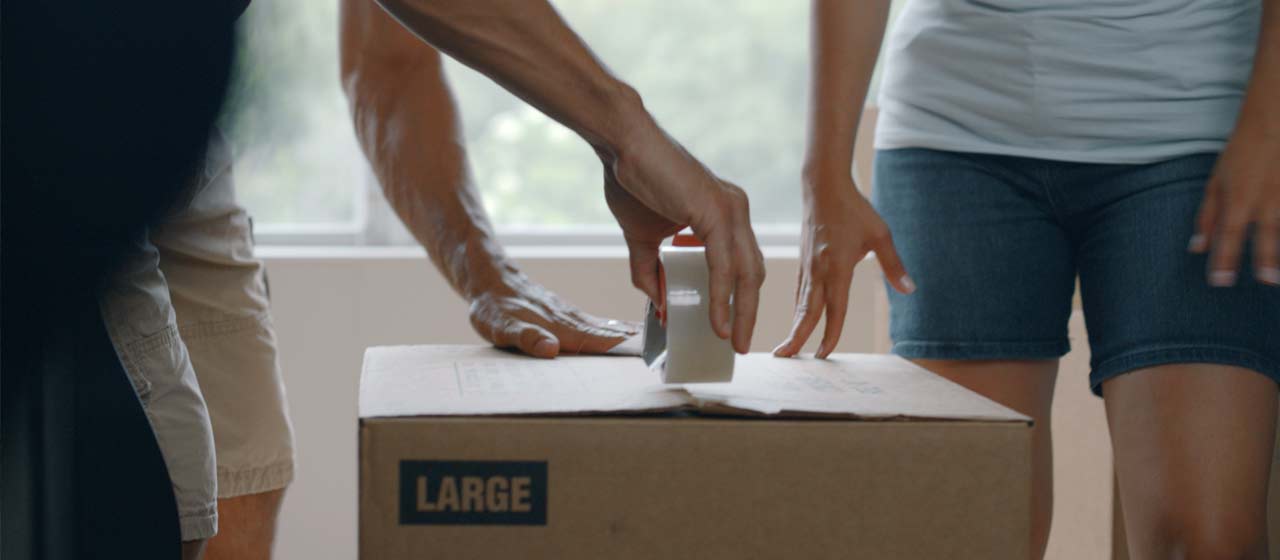 What to expect when moving with PODS
See what you need to prepare for your move across town or cross-country with PODS.
This may take up to 30 seconds.
We're searching over 200,000 containers to find you the best price.
Step 1: Before You Get Your Quote
Do you have the space for a container delivery?

PODZILLA®, our level-lift system, needs a flat, level surface and a clearance area that's at least 12' wide X 15' high X 40' long (including the street) to maneuver your container into place. If you're not sure you have the clearances PODZILLA requires, just give us a call and our top-rated customer service team will help figure it out.

If your moving or storage container is being placed in an apartment or condo parking lot, you'll need to reserve 3 consecutive parking spaces for delivery and pick-up (the container will only occupy one space when PODZILLA is done).

If you don't have a flat, level, paved surface to accommodate PODZILLA, ask about our premium delivery service.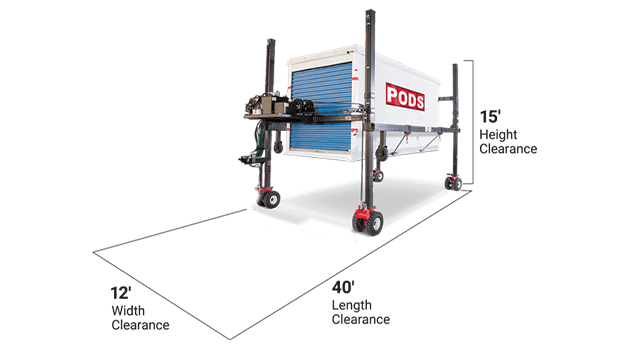 Do you know your destination ZIP code?

PODS has an extensive national network. If you have your destination ZIP code, we can quote you an exact price for your move. If not, any ZIP code from the area you're moving to can be used to get a price estimate for your move. That price will be subject to change depending on your final ZIP code. Whether you're looking for a local or long-distance moving quote, PODS has got you covered.
Do you need a permit or HOA approval for container placement?

Check with your local government or neighborhood homeowner association for guidance. Or, give us a call and we can help.
How much container space will you need?

PODS offers 3 container sizes, and you can mix and match multiple containers to ensure you get all the space you need. Take advantage of our container size chart and moving and storage calculator to get a better idea of which container, or container combo, would be best for you.
If Your Situation Changes, No Worries
Like we say, flexibility would be our middle name if we had one. So if you need to reschedule a delivery or pick-up for any reason at all, just call our Customer Care Team at (855) 548-2120. No matter how much you prepare for your move, there's always the possibility of a complication or two. But PODS is here to help!
Step 2: Getting Your Free Moving Quote
Once you're ready to price out your move with PODS, you have a couple of options. You can request a free moving quote online by clicking Get a Quote, or call us at (855) 706-4758.
Getting a Quick, Convenient Quote Online

Getting your quote online is super easy. All quotes are valid for 7 days and include all transportation costs. You can even request multiple quotes for different possibilities. We'll email you copies for your convenience, and the entire process takes less than 10 minutes.
NOTE: Some long-distance moving quotes will require a phone call in order to generate the most accurate estimate.
Or We Can Give You a Price Estimate on the Phone

Call us at (855) 706-4758 and talk with a PODS Customer Care Associate who will walk you through the process and email your quote right away. They can even set you up in our system so you can come back later and access your quote easily or make changes to it.
Understanding Your Moving Quote

All PODS containers are rented by the month. So pricing will show the container rental fee for the first month, as well as delivery and pick-up costs.
If you'll need additional storage time, but aren't sure for how long, we'll give you all the pricing elements so there won't be any billing surprises.
Be sure to ask about our moving and storage discount if you'll be storing at a PODS Storage Center for 3 months or longer.

Questions You Should Expect When Requesting Your Moving Estimate

To give you the most accurate quote possible, we need specific information about your local or long-distance move. Here are some questions you can expect when requesting your PODS free moving quote, either online or by phone.
What are your expected move-out and move-in dates?
We can usually schedule your container drop-off within days.
Which size containers do you need and how many?
Remember, PODS containers come in 3 convenient sizes. You can book as many as you like, and even have deliveries and pick-ups staggered for convenience.
Where do you want your container placed and which way do you want the door facing?


Your PODS Customer Care Associate will check the dimensions of your driveway or other flat, level surface to make sure we can accommodate

placement of your container

.

Do you need help packing your stuff or loading and unloading your container?
PODS can refer you to local professional packing and loading companies who know how to maximize container space, minimize shifting, and will give you as much or little assistance as you'd like.
Do you need to have any vehicles transported?
We work with two trusted national vehicle transport companies with services in your area.
Do you want extra protection for your belongings?
Check out our contents protection options.
Do you need packing materials or a lock for your PODS container?
Order them from PODSboxes.com and we'll ship moving boxes and other storage supplies directly to your door for free.
Step 3: Reserving Your Container
Once you decide that PODS is the moving company for you, the next step is to book your moving container, or containers. We have 3 container sizes to choose from, and you can mix and match to fit your needs. You can book online or by phone, and if you have any questions while you're preparing to move, we're always here with answers.
Review and Accept Your Rental Agreement

It's really important to review and accept your moving container rental agreement once you've booked your container. It will be available for review in your PODS.com account. It's important to note that customers must accept the terms of the rental agreement before PODS can proceed with container delivery.
How You'll Be Billed For Your Move

PODS offers a simple billing cycle and payment schedule for our monthly moving container rental and pay-as-you-go services. For local moves, billing will be charged one day before your initial delivery or re-delivery. Monthly rental charges will be billed on that same date each month. Billing for long-distance moves is divided into 3 sets of charges, each of which is charged 7 calendar days before your service. Here's how they are divided:
• Initial Delivery and First Month's Rent
• Transit/Shipping Charges
• Re-delivery Charges
As with local moves, subsequent monthly moving container rental charges will be billed on the date of your initial delivery or re-delivery.
Enjoy the Convenience of Autopay

Our autopay option is an easy way to make monthly payments, whether you're storing your container at home or at a secure PODS storage facility near you.
Book a Few Pros to Help Pack and Load

If you need help getting ready to move or packing your stuff, loading your PODS container, or both, this is the time. Just visit our Packing and Loading Assistance page where we can refer you to professional moving and packing services in your area for help moving. Be sure to schedule their arrival for at least one day after your moving container delivery date.
Step 4: Here Comes Your PODS Container!
You've secured your moving container rental, now what? We'll send an email the evening before your scheduled delivery date with a 3-hour delivery window for the following day. Your PODS driver will also call when they are en route. It's not necessary to be present for your container delivery, but if you're unsure about where you want it placed, you should be there to discuss your options with the driver.
Prepare for Your Delivery by Double-Checking Your Information

A week or so before your portable container is delivered, it's a good idea to verify your address, contact information, and service dates, as well as to confirm your container's placement details.
Do You Have All the Necessary Permits?

If a permit is required for your moving container, it should be available to present to your PODS driver upon container delivery, or sent to your PODS Customer Care Associate beforehand.
Relax and Enjoy Watching PODZILLA® in Action

When your container arrives, your PODS driver will use PODZILLA, our level-lift system, to carefully move it into position. PODZILLA's maneuverability and our containers' roll-top doors allow for lots of placement options! It's important to remember that PODZILLA and our trucks require a flat surface free of obstructions, with clearances of 12' wide X 15' high X 40' long in order to deliver your container. So don't forget to move your car if it's in the way. Not sure what to do while PODZILLA does the heavy lifting? Check out these packing tips to help you prepare for your move!
If you have any concerns or specific delivery constraints, call PODS Customer Care at (855) 548-2120.
Got Multiple Moving Containers? Here's a Tip!

We can deliver multiple containers on the same day if you have enough space, or stagger them in stages to help you stay better organized and less stressed. Your first container can hold your less frequently used items such as attic items and guest room furniture, and your last container could hold your most essential items that you'll be using all the way up to moving day, such as kitchen items. Keep both portable containers at your home with on-site storage, or store one in a storage facility near you. Don't forget to keep a list of what you put in each container and mark down each container's unique number.
Load Your Container and Get Ready to Move

Once PODZILLA has finished the job, you're all set. You now have a sturdy, steel-framed, weather-resistant PODS container ready to be loaded. Not sure where to start with packing to move? Download our packing and loading checklist for portable container packing tips from the pros.
And in case you were wondering, our commitment to great customer service is unconditional, so our drivers don't expect a tip.
Step 5: Load Your Container
PODS makes loading a container super easy to help your move be less chaotic. With convenient placement in your driveway, our ground-level containers mean there's less distance to cover carrying heavy boxes and furniture. There's also no ramp to climb, making loading your container that much easier! And since you own the lock and key to secure it, you can rest assured that no one else will have access.
Get Professional Packing and Loading Help to Lighten Your Load

As mentioned above, PODS' ground-level containers make loading a lot easier. So do our helpful packing and loading tips. We can also connect you with trusted packing and loading companies in your area that will do as much, or as little of the work as you'd like. Whether you just need help with the heavy stuff, or want your whole house boxed and loaded, they'll maximize your container space and minimize the risk of damage to your stuff while in transit. It's always a good idea to schedule their arrival for at least one day after your container delivery date.
Take All the Time You Need to Load Your Container

With PODS, you make the schedule so you can take all the time you need to prepare for your move. Because our portable containers are rented by the month, you can take all the time you need to pack and load. And if you discover that you're going to need more container space as you're packing, no worries. We can deliver additional containers with a simple phone call. Just remember, if you do use multiple containers, it's always a good idea to keep a list of your container numbers and an inventory of which belongings are in each container.
You Can Customize Your Move

Flexibility would be our middle name if we had one. That's because we offer moving solutions that allow you to control the chaos and avoid some of the stress a big move can bring.
Move some stuff. Store some stuff. Ship some stuff. If you're downsizing, for instance, PODS gives you the option to move the stuff for your new home in one container and store the stuff you can't fit, but still want to keep, in another. You can even ship a third container of items you no longer need to relatives, like your kids, perhaps.
Why Not Move in Stages?

Using multiple containers and staggering their deliveries can help make your move a lot less stressful and a lot more organized. Multiple containers will also help minimize stress while packing for your move, as you won't have to worry about whether all of your items will fit. By partitioning your belongings into different containers organized and labeled as "Need Now", "Daily Use", "Kitchen", "Living Room", "Bedrooms", "Outdoor", etc., you can break your big move up into several "mini-moves" that give you all the time you need to unload and organize one part of your new home before moving on to the next.
As Soon as You're Ready, Schedule Your Container Pick-Up

After packing and loading your stuff into a PODS container, the next step is to set up a pick-up date for your portable container. It should be noted that our calendar can fill up quickly, so the earlier you schedule, the better the chance we'll be able to provide your service exactly when you want.
Step 6: We Pick Up Your Loaded Container for Transport
When you're ready, we pick up your loaded PODS container rental and take it back to one of our secure storage centers, where we transfer it to a long-haul truck for transport to your new home. Just like when we delivered it, you'll receive a call and email after 6pm the night before the pick-up with your 3-hour service window. On pick-up day, you'll get a call from your PODS driver when they're on the way to deliver your mobile container.
PODZILLA® Returns

It's back! Our level-lift system returns to your property to carefully load your container back onto our truck for a temporary trip to your local PODS Storage Center. That means we need an unobstructed path to your container with clearances of 12' wide X 15' high X 40' long. As a reminder, you don't have to be there when we pick up your container (one less thing to worry about while you're preparing to move!), but double check to make sure it's locked and ready for pickup by 7am. Unlocked containers will not be picked up. Learn about container placement requirements.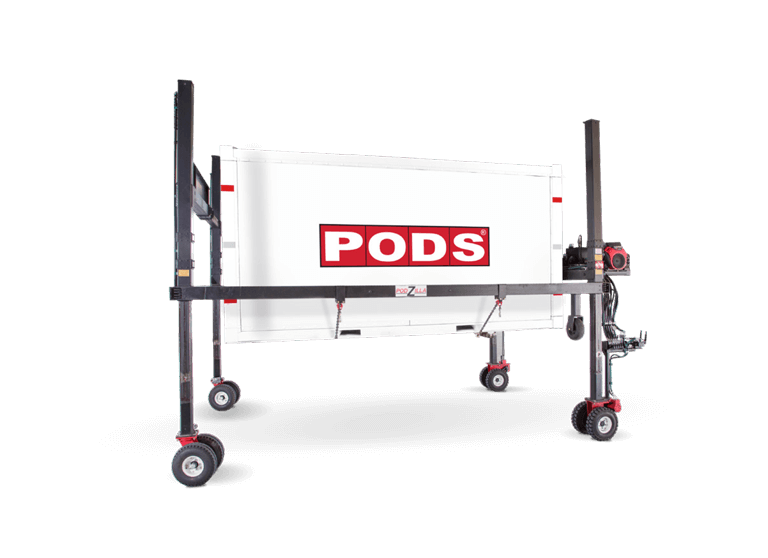 Multiple Pick-Up Options

Just as we can deliver multiple containers in stages, we can also pick them up that way. So if you have multiple moving containers on your property, we can pick them up one at a time as they're loaded, freeing up space and helping you stay organized during your move. PODS' built-in flexibility makes the container pick-up process that much easier.
Step 7: Need Storage?
If you need storage during your move, PODS is the easy choice. That's because your PODS moving container also happens to be a storage container. So all the stuff from your move that you want to store is already loaded and ready to go. It doesn't get much easier than that.
Safe, Secure Storage

We'll pick up your container and bring it to a safe, secure PODS Storage Center for as long as you want. Our indoor Storage Centers are accessible by appointment only, and not open to the public. And, since you hold the key to your container's lock, you can rest assured that you're the only one with access to your stuff.
You Can Store in Your Current City, Or Your New One

PODS has 230 secure Storage Centers across the country, so you can store in your new city, your current city, or anywhere in between. Find a storage facility near me.
Free, Easy Access at Our Storage Centers

If you need access to your container while it's at a PODS Storage Center, just give us a call at least 24 hours in advance to let us know when you're coming. We'll have your container waiting when you get here. And if you have multiple containers, consult your inventory list for the items you need, so you can tell us which container, or containers, you need to access.
Or, We Can Bring Your Container Back to You

If you need to get a lot of stuff out of or into your storage container, particularly larger items, we can bring it back to your place, where you can take your time loading or unloading. When you're ready, let us know and we'll pick your container up and take it back to the storage center. Learn more about on-site storage.
Step 8: We Deliver Your Container to Your New Home
This is where using PODS really pays off, because we'll deliver your container to your new home, whether it's across town or across the country. And you don't have to deal with the stress or expense of driving a huge truck.
You Control the Schedule

You can schedule delivery of your container to your new address up to a few days before you need it delivered, but we recommend scheduling as soon as possible for the best chance to get the dates you want, particularly during summer months. And please keep the transportation time to your new home in mind.
For long-distance moves, your PODS Customer Care Associate will let you know the estimated time it will take to transport your container to your new address, so you can schedule delivery and plan accordingly.
Make Way for PODZILLA®

PODZILLA will need the same clearances when delivering your container to your new home, so make you have a flat, level, unobstructed path with clearances of 12' wide X 15' high X 40' long. Learn about container placement requirements.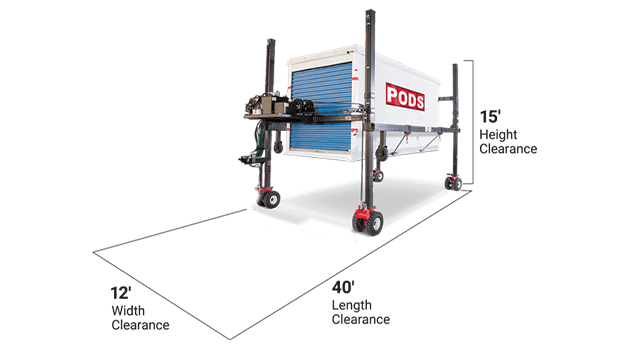 Step 9: Unload Your Container
PODS gives you all the time you need to unload your container, helping to reduce some of the stress and chaos that's often associated with a big move. Just don't forget your key to unlock it!
Stay Organized by Moving in Stages

We can deliver only what you need at the time of your move, and keep the rest in storage until you're ready for it. By staging your essentials first, you don't have to live with boxes everywhere.
No Need to Unload on Your Own

We'll connect you with trusted companies in your area that will do as much, or as little of the heavy lifting as you want them to. Find a packing and loading company near me.
Step 10: Final Pick-Up of Your Empty Container
If you don't need storage, and have unloaded everything from your container, it's time for us to pick it up, completing your move with PODS. Again, you don't have to be present for this service. Just don't forget to remove your padlock before we arrive. And please make sure that PODZILLA® has a flat, level, unobstructed path with clearances of 12' wide X 15' high X 40' long. has a flat, level, unobstructed path with clearances of 12' wide X 15' high X 40' long.
Avoid Extra Costs by Scheduling Your Final Container Pick-Up ASAP

Let us know as soon as you can when to pick up your container. Keep in mind that PODS rents containers by the month, and we don't prorate, so if you won't be needing your container, be sure to schedule final pick-up before your monthly charge date, so you're not charged for another month.
Let's Get Started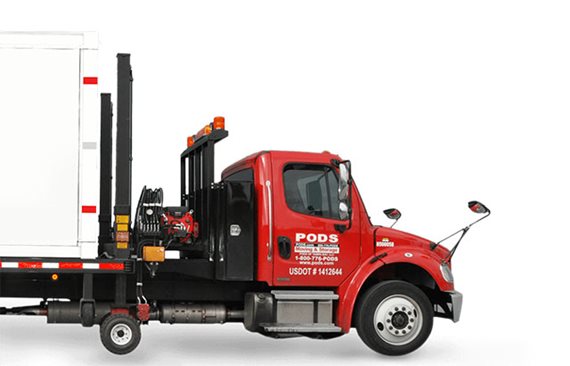 Choose the service you need